Therapeutic and Hydrating Body Moisturizers:
Healing and Restoring Cream (5.1 fl. oz.) --- $39.50
Exceptionally concentrated, this is a therapeutic super-moisturizing treatment for very dry skin. It also works well on torn cuticles and rough areas anywhere on the body. As its' name testifies, this cream is renowned for healing and restoring sensitive or problematic skin and is used as a treatment in a wide range of skin disorders including eczema, psoriasis, dermatitis, bedsores, burns and after chemotherapy or Accutane treatments.

PROBLEMS SOLVED:
Helps to heal very dry, cracked, scaly skin.
Softens thick, calloused skin.
Hydrates dry, scaly areas caused by psoriasis and eczema
How To Use
Massage into clean skin at least once or twice a day, particularly after bathing. Apply liberally to any area that needs extra hydration and protection.
Ingredients
Distilled Water, Hyaluronic Complex Solution (plant derived), Glycerin (USP-Kosher-Plant Derived), Shea Butter, Soy and Cotton Seed Butter, Antimicrobial Complex™, Sesame Oil, Proprietary Emulsifying Complex and neutralizer, Hydrolyzed Wheat Protein Olivate (From Olive Oil and Wheat)
Vegan Pomegranate Lip Balm --- $7.50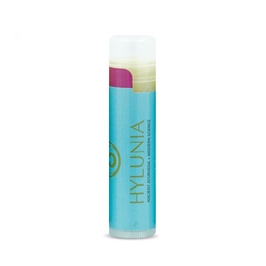 Chapped or dry lips are a common problem accompanied by redness, flaking and sore lips. Moisturize and repair chapped lips with Hylunia's all-new Pomegranate Lip Balm made with the highest quality natural or naturally derived ingredients!
PROBLEMS SOLVED:
Vegan Pomegranate Lip Balm helps to:
Hydrates and restores the natural softness of lips.
Natural candelilla wax and cocoa butter help retain moisture.
Rosemary extract regulates free radical activity.
Calendula extract offers soothing comfort.
Comes in a refreshing vegan pomegranate flavor.
How To Use
To apply lip balm, place the tip of the container against your bottom lip and apply a thin, even layer of the balm, then repeat for your top lip. If you like you can transfer the lip balm to your finger first, then spread it across your lips. Rub your lips together to help spread out the lip gloss evenly.
Ingredients
Organic Sunflower Oil, Candelilla Wax, Organic Cocoa Butter, Organic Coconut Oil, Organic Pomegranate Flavor, Vitamin E, Organic Rosemary Extract, Organic Calendula Extract
The product prices are subject to change, so please refer to our current price list that is available in the salon.



We accept cash and check only.


No Cash Refunds – Store Credit Only – No Exceptions.